Social Security Disability Attorneys in
Maryland Serving Clients Nationwide
If you are disabled and medically unable to work, you may be entitled to receive Social Security Disability (SSD) benefits.
The Social Security Administration (SSA) offers two types of disability benefits that may be available to you. Social Security Disability Insurance (SSDI) is an insurance-based benefit program run by the Social Security Administration (SSA) for disabled workers who have contributed to the system through payroll taxes and accumulated sufficient work credits during their working years. The length of time needed to qualify for benefits varies, but, in general, you must have worked 5 out of the last 10 years.
If you have never worked, have not worked in many years, or not worked long enough to qualify for SSDI, you may still qualify for disability benefits through the Supplemental Security Income (SSI) program. SSI provides monthly benefits for disabled individuals with very low income and few resources.
How Can I Get SSDI or SSI Benefits?
The application process can be long and arduous. Your application is reviewed by the SSA to verify your work history, age, education, skill levels, and, of course, your functional levels given your medical condition. In determining your eligibility, SSA takes many factors into account. The SSA, for example, will look at your earnings history to determine whether you qualify to receive SSDI. That is, SSA considers how long you worked and when you last worked (i.e. working 5 of the last 10 years with the required amount of work credits accumulated) or, absent a work history, to determine whether your income and assets fall within the eligibility guidelines for SSI.
In addition, you must prove to SSA that you are unable to work or that your ability to work has been so diminished that your earning capacity is minimal. You must have medical documentation, and a consistent history of treatment by medical professionals, demonstrating that your injury or illness is either permanent, expected to last for at least a year or more, or will result in death.
Medical conditions that may qualify you for disability benefits include, but are not limited to:
Orthopedic injury or conditions of the neck, back, hips, knees, or hands

Arthritis

Fibromyalgia

Migraine Headaches

Chronic Disease, including heart disease, stroke, and complications of diabetes

Cancer

Chronic Fatigue

Mental Health Disorders, including depression, anxiety, PTSD, and other conditions
Proving that your condition prevents you from being able to work is a complicated maze that is fraught with potential pitfalls. It can be difficult to prove to SSA that your back pain is real or that your mental health condition is legitimate and debilitating. If taking on the SSA sounds like a daunting and complicated process, that's because it is! Even people with documented evidence of these or other medical conditions are routinely denied on initial application. Statistically, SSA denies nearly two-thirds of all applications it receives.
Don't go it alone! The experienced, committed, and knowledgeable team at Gordon, Wolf & Carney is able to navigate your case through the intricacies of the SSA process. We can file your initial application for you or, if you feel you were wrongfully denied, step in to handle the appeal process for you, either at the reconsideration stage or to advocate for you at a hearing before an Administrative Law Judge (ALJ).
What can Gordon, Wolf & Carney Do For You?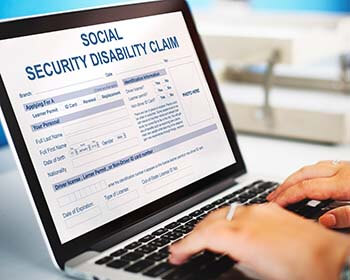 Gordon, Wolf & Carney is a boutique law firm, with big-firm experience that enables us to give your case the attention it deserves. Your case will be presented to SSA professionally, efficiently, and effectively! After all, the key to winning an SSDI or SSI case is not only gathering and presenting all of the records and facts to the SSA, but HOW those records and facts are presented. Although we can never guarantee that you will win your case, with us as your advocates, you can feel secure in knowing that a law firm with experience and empathy has your back. Let Gordon, Wolf & Carney be your advocates and put our experience to work for you!
Contact us today for effective and comprehensive legal representation. We take no fee unless we win your case.